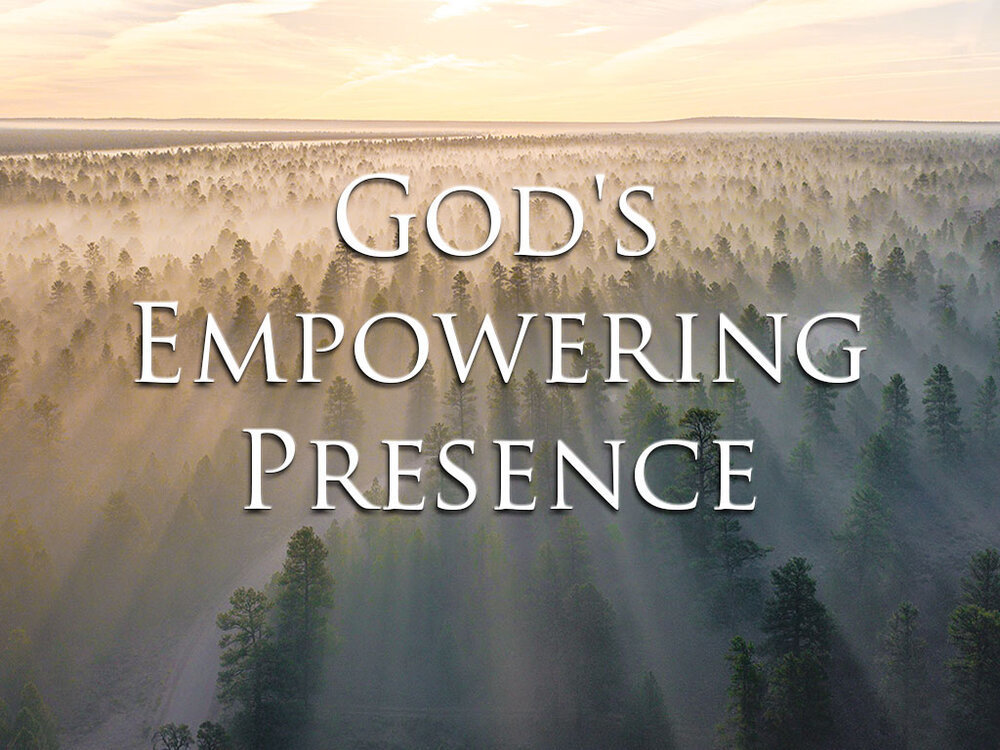 February 16, 2020
Ephesians 3:14-21
God's Empowering Presence (Review)
• The Spirit is a person [Ephesians 4:29]
• The Spirit in all of creation [Gen 1, Ex 31]
• The Spirit connected with our spirit--glove [Ps 51]
• The Spirit anointing Jesus for… freedom [Luke 4]
• The Spirit working the character of Jesus into us [Galatians 5—Pastor Brian, no silo churches]

"For this reason I kneel before the Father…" (Ephesians 3:14)
• Kneeling—most Jewish men would stand to prayer
• Paul: a pray-er, warm heart and mind
"I pray that out of his glorious riches he may strengthen you with power through his Spirit in your inner being…" (Ephesians 3:16)
• the spirit linked to power [empowering presence!]
• in your inner being, in your spirit
"…so that Christ may dwell in your hearts through faith." (Ephesians 3:17).
• The incredible link and tie between the Spirit and Jesus
• The Spirit making room for Jesus, pointing us to Jesus, growing the character of Jesus in our lives
• The Spirit's role is to point us to Jesus, prepare people for Jesus, ready people to participate in the ministry of Jesus

"…being rooted and established in love"
• Who is Paul praying for?—believers!; that those who already know the love of God to have more love [you can never get enough—life long journey]
"may have power, together with all the Lord's holy people"
• Y'all; A communal experience
to grasp how wide and long and high and deep is the love of Christ,
• There is a lot of love to seek to grasp!
• You can't know the love of God fully unless you know the love of Christ, who is the fullness of God (Colossians 1)
• we need regular meditation on the love of Christ—
"and to know this love that surpasses knowledge"
• "know" = not just "mental knowing," but rather a wholistic experience of this love
"that you may be filled to the measure of all the fullness of God" (Ephesians 3:17-18)
• the "fullness of God"!: that's big!
• if this happens you will be filled to all the fulness of God—which is a lot!
"…so that Christ may dwell in your hearts through faith." (Ephesians 3:17).
• "Your hearts" = the central part of the human being
• "dwell" = Κατοικέω: "to house permanently, i.e. reside (literally or figuratively);to dwell, settle"
o strange language?---our bodies as temples
• "dwell" =
o under the influence of Another
o having influence over, tone, atmosphere
o Full immersion of Jesus into our lives / hearts, into all of us
• Jesus does not come as a guest, just for dinner, for a short stay, or to simply look around at the house
• Rather, dwell =
o He comes to stay and he is going to being making changes. He is looking to renovate your house
o He is coming to renovate the entire home [example of the Interior Design TV show]
Rooms Of The House?
• What are the rooms of a house?...bedroom, kitchen, etc.

• What are the areas of your life?

• Jesus to come into each and every area
Revelation 3:20—[similar image] "I stand at the door and I knock"
Galatians 2:20—[similar image] "…I no longer live but Christ lives in me…"
• A whole life under the influence of Jesus Christ, through the power of the Spirit
• The implications are as big as life itself, as big as a house, as big and comprehensive as everything we do and are involved in
What is an area of our lives we could mention this morning???
The concern for the poor…
Song: "Come into my Heart.."
Into my heart, into my heart
Come into my heart, Lord Jesus
Come in today, come in to stay,
Come into my heart, Lord Jesus
Prayer: for Jesus to fill our whole houses, lives, hearts