Saturday, March 2, 2019
8:00 am - 12:00 pm
This event has already occurred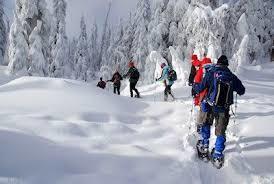 Join us for snow shoeing on March 2 to Bowen Lookout on Cypress Mt.
If you have never been up our beautiful local mountains, here is your opportunity to check them out!
This is a 4.5 km round-trip that takes about 2.5 hours to complete.
The Bowen Lookout has an incredible viewpoint that overlooks Howe Sound, out towards Bowen Island. The hike is relatively easy with a steep climb at the end. We will meet at the church at 7:45 am to arrange car-pooling and leave by 8:00 a.m. and begin hiking by 9:00. Bring along a snack and drink to enjoy when we reach the look-out. Wear water-resistant clothing, and dress in layers as you will get warm when we make the climb at the end of the hike. Don't forget your gloves and a toque! We should be back at church around 1:00. Children 12 years and up are welcome to join us.
10 sets of snow shoes are available for rent at $6 each, so let us know if you would like to rent a pair. Contact Joanne if you want to join us or have any questions.